Understanding the Quarterly Report
At the end of each calendary quarter, that is 4 times a year, we send our landlords a details overlook of their income, expenses and nett results of the units in their portfolio.
Transperancy and honesty are core values of our work and we want to make the report as straightforward and clear as possible. Here's a quick overview of what can be seen in the report:
Income by Categories
Rent: Rent is the main income source of every unit. It is a fixed amount paid monthly by the tenant. Monthly rent incomes may vary due to vacancy, prorated rents upon tenant changes, changes in the rent itself or tenant compensations.
Deposit Withdrawal: If damages to the apartment are found after a tenant leaves an apartment a sum from his security deposit may be withdrawan to cover those damages. This will be recorded as an income in the unit.
Utility Refunds: Income from sources such as house fees, electricity or gas indicate that a refund was issued from the supplier after the yearly consumption bill was calculated.
Expenses by Categories
Utilities: Electricity, gas and internet indicate the monthly payments made to suppliers. Variations in the monthly payments usually indicate adjustments of down payments or one time installation fees.
House Fees: These are monthly payments to the building's owners association, or as it is called in Germany - the WEG. These payments cover water consumption, garbage disposal, cleaning of common areas and all other communal operation costs. In some buildings they include heating costs. They also cover the fee of the building manager (Hausverwaltung) as well as monthly deposits to the renovation fund of the building.
Tax - These are almost always payments for property tax, charged once every quarter. Variations here might indicate old debts or other tax payments made on behalf of the landlord.
Maintenance - These are irregular payments to cover any repairs or upkeep of the apartment. Often they will be offseted against a deposit withdrawal income. A seperate maintenance report is issued with more details.
Advertising: Advertising expenses relate to any expenses made for the publishing of the apartment online and offline. These are usually photographer fees and online ad costs.
Management Fees - These are Betonbear's fee for the services provided.
Example Report
Here's a report template with the most important items marked and explained on it: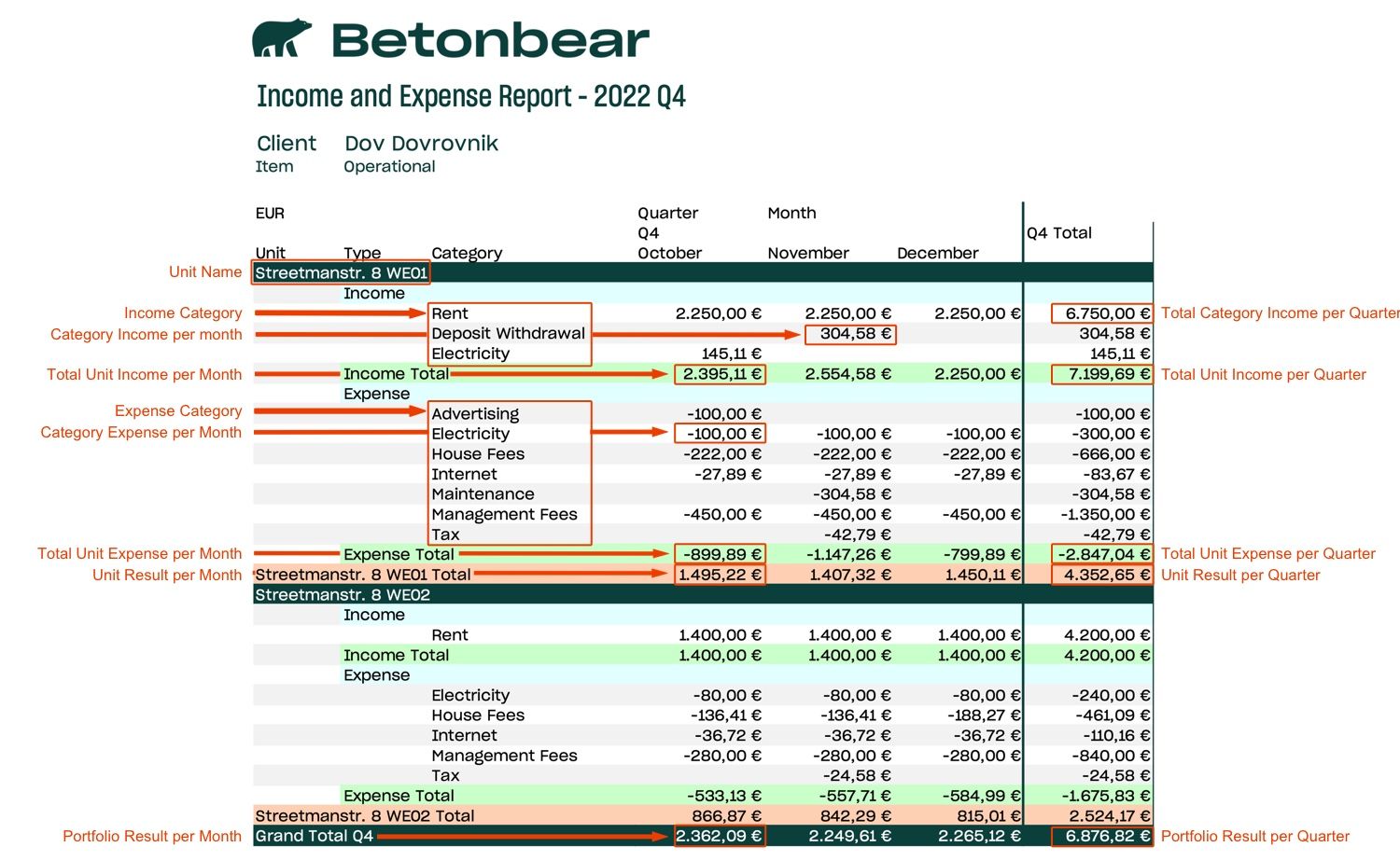 We know some of this might be overwhelming or confusing. We work with the terms and numbers everyday and know every small details of your property. That's why we're always happy to free time for a personal overview of your report by phone or video.
For any questions you might have just send us an email!
Contact us at landlords@betonbear.com for more information.